Place your mouse over any small photo to see a larger view below.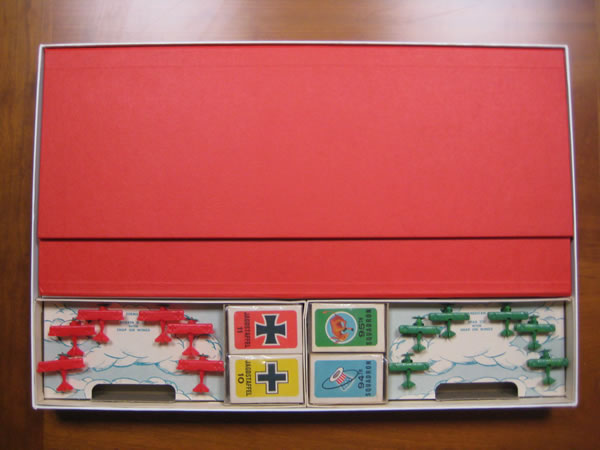 Includes a NEW, fully Reconstructed Game Box, Reconstructed Card Holder Insert, Original Cardboard Dividers, Original Plane Holders, and a full complement of previously played Original Milton Bradley gaming parts, including 12 Planes, 4 Plane Stands, 4 complete Decks of Squadron Cards, 16 Anti-Aircraft Markers, 6 Round Ace Markers, 6 Cross Ace Markers, Original Rule Book and Original Wooden Dice, as well as Original game board.
An awesome gift for any Dogfight fan, aviation buff, or vintage game enthusiast. This is like finding a complete used game with a perfect box!
The offering shown in these images is representative of a mid-level restoration intended for gaming, and was privately commissioned in late 2009. It has since been listed on eBay. Images of your actual game and playing pieces will be forwarded to you for your inspection prior to shipping.
NOW AVAILABLE IN LIMITED QUANTITIES - INQUIRE FOR PRICE