Home
Welcome to the first and only "never-going-to-make-a-profit" website dedicated to the American Heritage DOGFIGHT™ World War I Air Battle Game. If you've landed here for the first time you either made a serious mistake in your search term or are actually interested in this classic game from the early sixties. If you are a repeat visitor we offer our continued support of your aerophilic affliction and hope we have previously served you well.
It is our informal, off hours mission to keep DOGFIGHT games and gamers in play, and we offer just about everything you will need to complete or restore either the original DOGFIGHT, or the Bicentennial Re-issue version.
If you are unable to find a particular part, card, or piece of cardboard in our parts listing, it is our omission, and we probably have it in stock. Please use e-mail to request specific needs or ask questions, and review the Factory Checklist to see what an original game should include. We also welcome comments, corrections, criticisms, and humor. As always, if you are not happy with your purchase for any reason, we will make it right, period.
If you have spare parts for DOGFIGHT or incomplete games for sale, or wish to trade, we are happy to consider proposals or make offers. We cannot trade or purchase games other than DOGFIGHT, however, as we are typical perfectionists, and are already in too deep.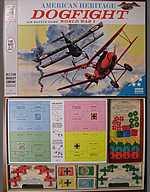 Click image to see
Parts for Sale