Parts for Sale
We have just about every part of the original American Heritage DOGFIGHT™ World War I Air Battle Game as issued at the factory, and we usually can match condition and wear of existing games in play.
ALL PARTS ARE ORIGINAL MILTON BRADLEY PIECES.
Our listing is divided into three categories so that we appear to be very organized. LARGE PARTS includes Boxes and Boards, GAMING PARTS includes all the moving parts actually used in play, and NON-ESSENTIALS includes parts not necessary for play, but found inside the box, which typically were lost, discarded, or eaten by crickets in storage. If you can't find something in a particular category, try another.
Click on the general sub-category pictures below for a description using many more words to say essentially the same thing and a bigger (and sometimes the same) picture. These description pages open in a new window.
| | | |
| --- | --- | --- |
| [top] | Boards | Boxes |
| [top] | Wings | Complete Planes |
| Ace Markers | Plane Stands | Propellers |
| Card Holders | Dice | Playing Cards |
| Plane Holders | Rule Books | Anti-Aircraft Guns |
| [top] | Air Fighters Book | Cardboard Dividers |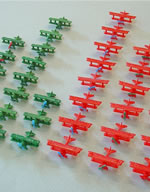 Click image to see
Parts for Sale