Original Games for Sale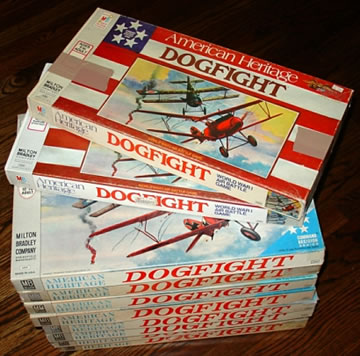 Although our specialty is apparently to dismantle games simply to get parts for other games, we do have complete and all original games for sale, and can ship them directly to your door. Prices will vary depending on the overall condition you desire. It is often much more cost effective (i.e. cheaper) to purchase complete sets off of eBay, or purchase incomplete sets and fill in your needs from our site (hint, hint). I followed the bidding on eBay Dogfight offering for more than two years, and a complete original game in good to very good condition should set you back about $40.00. Excellent and near mint games purchased off eBay range from $60 to $120. Shipping can set you back quite a bit more, from a reasonable $10, to those getting as much as $40 just for "handling," so be careful WHERE you purchase from, and read the fine print. The record in my vigil was $193.50 paid for a mint, factory sealed example in October of 2004 (see "What a Mint Condition Game Looks Like").
For those wanting a complete game to PLAY, rather than to collect, we have just started to offer Restored Versions of Dogfight. These are essentially used original games in fully Reconstructed Game Boxes, and thus are not "All Original," but they look considerably better than most vintage games, and you don't have to worry so much about collector value when you sit down with your friends to shoot at each other. And who wants to give Dogfight as a gift in a beat up box?
We also hope to soon offer "Reissue Games" that offer the benefits of all new cardboard art with the tradition of the original planes and battlefield.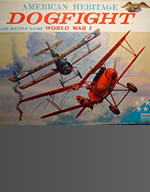 Click image to see
Parts for Sale